TRANSFORMATIONAL CHANGE BEGINS WITH OPPORTUNITY
A $5 round is worth so much more…
We're transforming the landscape of golf in Michigan and the lives of young people who play the game.
Beyond affordable golf, Youth on Course provides opportunities for young people to get the support they need to succeed through our career prep, leadership and scholarship programs.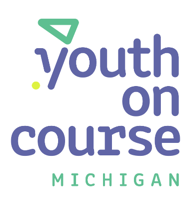 2023 YOUTH ON COURSE MICHIGAN MEMBERSHIP
$15 Membership Fee – Valid for 365 days from date of purchase
Available to juniors, between ages 6-18, eligible to renew until 19th birthday
What does a YOC Membership Include?
Golf Association of Michigan Junior Member
Handicap Index® authorized by the USGA®
GHIN Mobile App access
Complimentary annual subscription of Golf Digest
May participate in GAM Junior events
Access to Golf for $5 or less at Participating YOC Courses
YOC Partner Organizations
The GAM Foundation partners with chapters of The First Tee in Michigan, TGA of Southeast Michigan, LPGA*USGA Girls Golf, and other junior golf associations across the state to help those golfers get involved with Youth On Course.

Please consider donating to the GAM FOUNDATION
to support our Youth on Course community